Experience Tuscany Hills
Phase 2 Estate Lots Now Available!
As you see from our accompanying map to the left, Tuscany Hills' 78 acres has been carefully master-planned along the contours of its beautiful rolling hills so every home site has a spacious and open view of the Ozark countryside. Care has been taken to assure a wide variety of placement of home sites along paved streets to assure that your home site is tied in to its environment.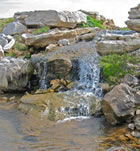 Please ask us for a personal tour and full description of Tuscany Hills by contacting the Melinda Hayes at Murney Associates Realtors at 417-839-7495. Or you can simply go to our Contact Page by clicking here, or on the bar at the top of your screen to send us an email describing your interest, and how we may contact you to answer all your questions and ideas.
We look forward to arranging a personal tour of Tuscany Hills for you and your family.